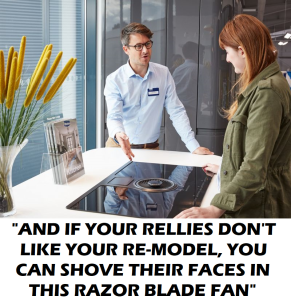 I keep seeing adverts where cunts impose themselves on others.
I'm talking about the likes of those cunts on the 'housebarrassment' adverts or a recent one on holidays (the cunts try to force their friends into doing a stay at home 'Yurt' holiday.)
Now, I know these are just adverts, but have people become so terrified of 'offending' anyone that this is an actual thing? And so narcissistic that they'd refit their entire house if an uninvited friend is coming around to stay? Seems to be a lot of adverts like this.
My version of the advert would be better.
Friends: "Oh,good news. We've decided to come and stay at yours this Christmas!"
Me: "You can get fucked you cheeky cunts."
However, the aggrieved in these adverts never say this, they smile and try to make excuses at best. At worst, they refit their entire fucking kitchen, rather than tell them to fuck off.
Fucking puffs.
https://www.wickes.co.uk/cure-housebarrassment
Nominated by: Cuntybollocks