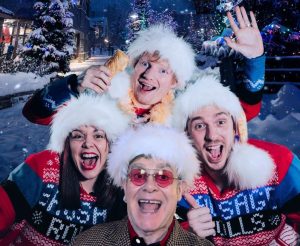 Just a quick please floss your bellend cunting for the long streak of piss Ladbaby.
How many fucking times can this well used wank sock bring out a Christmas single.
But wait I hear you cry…..it is all for charity….fuck off say I. This cunt is a social media whore.
Fuck me the cunt could raise more money by asking for a pound to not release a single….I would pawn a kidney.
Yes I cunted the cunt last year….it is now a tradition based upon my blood boiling for this cunt and all others who never do a days work but seem to make nice money
Nominated by: DryItchyCunt
Helpful link supplied by: Cuntfinder General
To make it four in a row, the cunt has roped in Elton Cunt and Ed Sheercunt😂:
(There is a separate nomination due to go live soon regarding the UK Pop Charts generally. So if you can stick to this Lardbaby twat for this nom it would be welcome – Day Admin)