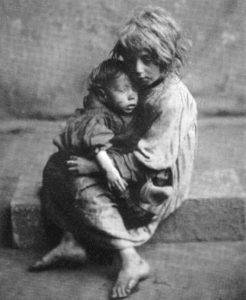 (Two East End children checking their white privilege 1905 – Day Admin)
I've been watching some rather interesting documentaries about life in Victorian Britain, and it couldn't escape my notice how the majority of the nation's population were genuinely poor and were treated like shit by their rich paymasters, landlords, governors and government.
There was an abundance of extreme poverty, appalling housing, non-existent sanitation, starvation, widespread disease, early deaths, infant mortality, and a biased judicial system that favoured the gentry over the whining of the plebs.
Moreover, children were often used as cheap labour with boys ending up as chimney sweeps or working down the coal mines. Girls, including preteens would find themselves working in cotton mills and factories. Sometimes as a last resort forced into prostitution in order to provide extra income for the family.
Quite often the illiterate, the unskilled, and the desperate were forced into dangerous jobs such as coal & tin mining, house building, road building… but with no union, no health and safety; and they were paid a pauper's wage despite working long arduous back-breaking hours!
The two World Wars of the early 20th century, the poor and working classes were forced into conscription  to fight for King and country, only to return to abject poverty when the wars were over.
I have chosen the Victorian Era as an example of how white people were treated back then, but previous and more recent eras will follow similar lines. That basically if you were white, poor and had absolutely no influence on anything remotely important then you could be treated like a slave by the Establishment.
And yet none of this seems to resonate today. It's as if poverty for white people never existed, and that every single white person was rich and deserving of their "white privilege"
It breaks my heart looking at these old archive photos of children (see Pinterest link below) treated like shit, working 18 hours a day for peanuts, starving, tired, riddled with illness, abused, bullied, probably sexually molested, and no doubt killed if they were of no longer of value to their employer.
But none of this will interest the woke. For them this is just another misrepresentation, and that the lives of dark keys suffered far more blah blah. And then have the affront to say the older generation had it relatively easy back in the day to be able to have a comfortable old age. Yet another sweeping generalisation!
Therefore let's airbrush out what happened during Victorian times and beyond, and just focus on black history and the trials and tribulations of the Woke instead.
https://www.aboutbritain.com/articles/poverty-in-victorian-times.asp
https://www.pinterest.co.uk/pin/266908715390103161/
Nominated by: Technocunt