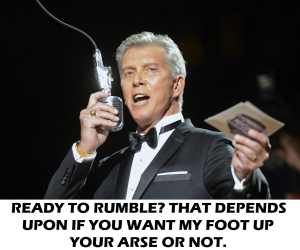 M.C.'s at sporting events
Who the fuck thought this was a good idea? They use them at all kinds of sporting events now. Even heard them being used at footy matches, in Germany in particular for some reason. I'm not really into T20 cricket, but seeing as the World Cup is on, I'd thought I'd give it a go for an hour or so.
The opening game, which is on as I type this, is being ruined by some MC (which must stand for 'Mouthy Cunt' in his case) shouting out all sorts of unintelligible 'rapper' type shit.
He's loud as fuck and doesn't shut up. He's shouting and playing drill/hip hop 'tunes' after every fucking shot.
Whoever thought this up should be strangled to death in front of his crying children. Off it goes.
Get fucked.
Nominated by: Cuntybollocks