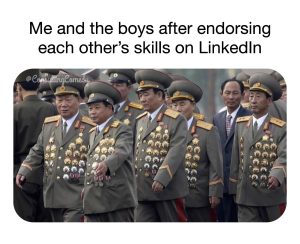 About 20+ years ago when I thought I was a dynamic entrepreneur I subscribed in the hope business would come my way. It didn´t. It just brought hustlers and conmen telling me how great they were, trying to sell things to me which I didn´t want. So I gave up and unsubscribed.
Well I thought I had until recently because I obviously still exist in Link In´s cyberspace and am now being bombarded daily with crap telling me how to reinvent my career and explore new "exciting" opportunities.
As I couldn´t give a damn about my "career" anymore and am happy to sink into obscurity it´s just another irritation. However, I have noticed that several people I worked with back in those days are still active and it´s pathetic to see how they are still trying to sell themselves although they must be nearing the end of their shelf lives.
One woman has become the marketing director of a multinational. Good for her but at what a cost. She writes North Korean-style "inspiring" items almost every day, is forever congratulating colleagues on their "achievements" and even uses incidents from her personal life to flag the company message. She has even stooped so low as to regale us with details about her son´s first job and how proud she is of him, complete with photographs. God knows what the boy feels like.
Every one of her comments has her employer´s logo along with its corporate motto. I wonder how she will feel about this slavish public obsequiousness when she is fired and replaced by a younger cheaper sycophant.
The social media has turned people into slaves.
Nominated by: Mr Polly