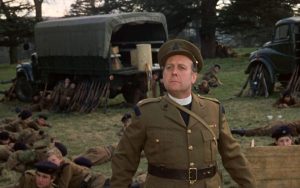 Congrats to Captain Quimson for correctly predicting the next famous person to pass away would be Geoffrey Chater.
Geoff reached the grand old age of 100. With an acting career which started in the '50s, he had roles in some top films and telly, including Gandhi, Dad's Army, Shelley, Tales of the Unexpected and some Harry Enfield sketch shows. So well done, Geoff. Rest in peace, matey.
On to Dead Pool 225.
You know the rules, but just in case:
1) Pick 5 famous cunts you think will be next to expire. No duplicates. It's first come, first served but you can always be a cunt and steal someone else's picks.
2) Anyone who picks the world's oldest man or woman is a cunt and will be ignored.
3) It must be a famous cunt we have heard of.
4) You cannot change picks mid pool unless someone has already nabbed your pick.
5) Please check your picks haven't already been taken as we can't be arsed to check for you.
So without further ado, carry on predicting…