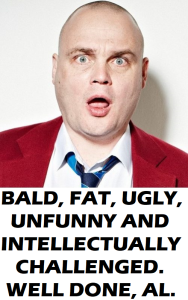 I truly hate Al Murray.
Not because hes not funny but because hes unpatriotic.
He did a tv series called "why everybody hates the English"
Slagging off his country.
Now hes a new tv show called
"Why do the Brits win every war?"
Basically questioning our historical victories, and sneering at us.
He plays things a bit 'jack the lad' but hes a fraud.
You see Alistair James Hay Murray is a direct descendant of novelist Thackeray,
His great grandad was the bishop of Rochester
His cousin is sir Edward Leigh MP,
Al was educated at Oxford university.
Hes descended from Scottish aristocracy and married into Austrian aristocracy.
And hes a liberal.
I fuckin despise the fat sack of shite.
Hates this country yet his family own half of it!
Alastair you traitor if I ever get the chance to meet you I'll spit in your fat fuckin face.
Nominated by: Miserable northern cunt