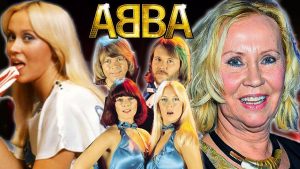 (What is she about to suck on in that header pic I wonder? – Day Admin)
ABBA are cunts.
All this fuss about an ABBA 'reunion', when there actually isn't one.
The Swedish 70s pop act are hyping up this big announcement about new recordings and a 'tour'. People will pay ridiculous amounts of money to see a projection mime songs that are well over 40 years old.
Of course, pooves and knobheads who love that Mamma Mia dog dirt will lap it up. It'd be simpler and cheaper to just put on an ABBA Greatest Hits DVD. But stupid cunts will gladly throw their money away.
As for the new songs? They will probably be shit and remnants from the 70s that were rejected as unusable at the time (a la the Beatles turning a Lennon cast-off into 'reunion' cash-in 'Free As A Bird').
The ladies' voices (ABBA's secret weapon in their prime) will not be the same due to age, yet the hype and hysteria over the new material will be unbearable.
The actual hologram that will be 'touring' also looks very shit. It resembles a bad rip off of Space 1999.
ABBA were good at what they did in their 70s pomp. But like so many rock relics, they couldn't resist the cash-in call. As Vic Reeves used to say, 'They wouldn't let it lie'.
Nominated by: Norman
—————————————————————————————————
And this from The Fuckyou Man
ABBA are over rated cunts.
Sweden's very own BUCKS FIZZ are praised as some fuckin genius outfit and it's oh so fuckin cool to say how awesome they are.
No…FUCK OFF!
They were in The Eurovision Song Contest for cunts sake! A total wankfest consisting of the worst songs ever written. Winning The Best SHIT song is nothing to be proud of.
Now these 4 colostomy bag owners have "reformed" and are making a CUM back??
They looked like a bunch of 70s pornstars when they were in their prime! (Yeah, but that blonde piece was my go-to 24/7 wank material during my yoof! – Day Admin)
Just FUCK OFF.
Oh…..and Roxette were crap as well.