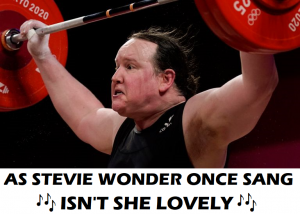 In light of the big fat bloke being knocked out of the women's weightlifting, i'd like to nominate the trans debate.
To anyone with a basic understanding of biology, there isnt one.
If you produce eggs, you are female.
(What if you've had a hysterectomy? – NA)
If you produce sperm.
You're a male.
That's it.
If you're a worm you produce both, but we aren't worried about the rights of worms here. (Worms Lives Matter – NA)
(Just read the first paragraph for the wording alone. You couldn't make it up – NA)
Nominated by: Cuntamus Prime