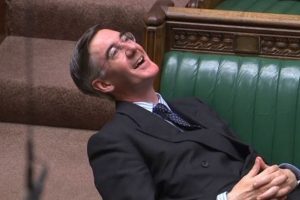 Comedy Tory cunt Jacob Rees Mogg is apparently an Extreme racist.
He used the term 'Yellow Peril' referring to the Libundemocrats', the cunt.
Jacob Rees-Mogg has claimed he didn't know an "extremely offensive racist term" he used in the House of Commons was offensive.
The Commons leader has apologised after he yesterday used the phrase "Yellow Peril" – considered a racist metaphor for a perceived threat from East Asian people to the West – in response to a question from an MP. Rees-Mogg was using the term to describe the Liberal Democrats.
Tory MP Damien Moore had said people in his constituency felt "under attack from the vindictive policies of Labour-controlled Sefton Council" for trying to "impose a cycle network".
In reply, Rees-Mogg said: "I hear gossip that (Moore) is actually working in collaboration, and whisper it quietly, with the Liberal Democrats in his area against these schemes, which I think shows how completely lunatic they must be to have created an alliance between him and the Yellow Peril."
The cunt. Imagine using a phrase that suggests that our Chinese friends are a danger to us and the world in general. How could he when it is obvious that the target of his racist utterings are the LiibDumbs who are completely innocuous and a waste of oxygen, so no peril to anyone.
Nominated by: Cuntstable Cuntbubble