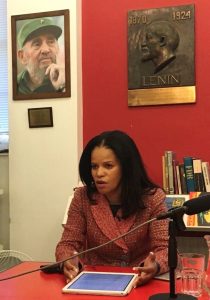 I am pissing myself laughing as I write this cunting.
Anyone heard of Labour MP for Leicester East, Claudia Webbe? Doesn't matter, neither had I, until today. (This is her 3rd cunting, so yes, we've heard. – Day Admin)
For a bit of background she once called to abolish the rich to solve climate change. Well, she could start with herself since MP's aren't exactly living in the workhouse. Also, last September she was suspended by the Labour party over bullying allegations. That was Keith 'down with the rent' Vaz's old seat. A fine vintage of MP exudes from that constituency it would seem.
Anyway, back to our story. Earlier this month she quizzed Dominic Rabb before the Foreign Affairs Select Committee regarding taking legal action against 'Beroos'.
At this point I recommend you read the article and watch the video of the exchange. It's cringeworthy.
Turns out she meant Belarus….she couldn't even pronounce it correctly. She wanted the government to take legal action against the country. Basically, Raab asked her what for? She stared back blankly…..not a fucking clue why or what for.
I am guessing she was told by some Labour gimp, to ask the question, never researched anything and repeated it like a parrot. Only to be made to look like a complete fool.
It turns out what she was referring to are human rights abuses in Belarus. The extreme left in the West never get enough of sticking the boot into Christian, white, conservative cultures like Russia and its allies. Human rights abuses…..let me think….could she mean like lockdowns, censorship, propaganda, cancel culture, coerced Vak-zines, soon to be vak-zine passports, police behaving like the Stasi, spying on private citizens and much more? Which cunt-ry could that be happening in?…..must be one of those nasty totalitarian ones….I just can't remember the name of it….just like she couldn't….but I do know it is not Belarus.
We all know the House of Cunts is full of useless eaters but this one is up there with the creme de la creme. Do MP's have mentors because I think hers must be Diane the Hippo. Wonder how her selection interview to stand for the seat went? What probing questions she was asked? What special quality did she have for selection? ……answers on the back of a postage stamp please.
Clueless Webb Doesn't know her own question
Nominated by: Cunt Two Three