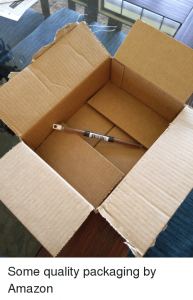 Amazon packaging
I ordered a micro sd card the other day. A tiny thing that could easily fit in a padded envelope. I went shopping and found a note from the post office stating it couldn't be delivered as I wasn't in at the time.
Of course my local post depot is only open when there's a full moon or a solar eclipse, so I had to wait ages to actually pick it up.
The size of the box was big enough to fit a fucking microwave in. All for a tiny micro sd card. It appears Jeff Bezos gives no fucks about the environment at all.
Not to mention the time I bought an umbrella and it was delivered in a box the size of a fucking freezer. Cunts.
Nominated by: LazyBiscuits