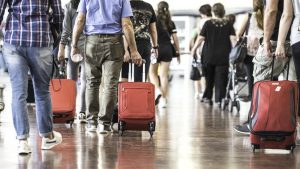 Only a couple of days to go until the deadline for applications to Remain in the UK. Some 5.6 million European Economic Area (EEA) citizens and their dependents have applied for settled status. But there are around 400,000 cases outstanding, and the government's helpline is receiving thousands of calls a day.
This equates to MINIMUM of 6m primarily Eastern European cunts who are unskilled, do not contribute positively to local society, and frankly have little to offer and are not wanted.
This is also almost certainly an underestimate of the final figure and at least DOUBLE the number the government have been telling us, of approximately 300,000 per year. I for one never believed the figures, unless they all came to our town, we are infested with the cunts. How can I tell, because they make no effort to integrate, dress differently, shout at each other, cause a disproportionally amount of crime (according to various sources) and taking up much needed school places/doctors appointments.
6m represents 1 in every 10 of the indigenous population. And from what I can witness with my own eyes the Eastern European's are breeding like fucking rabbits with between 4-6 children per family being the norm.
I can also see that the Mudslime families I know have on average between 2-3 children per family.
This all comes at a time where there have been more deaths than indigenous births in the UK for many years
And also at a time tens of thousands of asylum seekers (sorry, refugees) are being assisted by the French and Border Farce to arrive at our shores every year. And only around 10% are returned from whence they came.
To those mathematicians amongst us, how many years will it be before whitey is outnumbered and that everything great about this once great country is finished. For ever.
Answers on a postcard to:
The lying wanker with stupid hair who doesn't tucking care
No 10 Downing St
Diversity is our strength? Haven't got a racist bone in my body but have had enough of it.
Fuck off.
Nominated by: Willie Stroker.
Links helpfully provided by: Dickie Dribbler