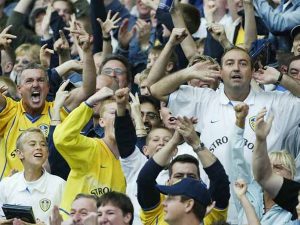 I used to be an active football fan from the mid 70s to early 90s, following my team (Birmingham City – yeah, I know they're shite!) both home and away.
One of the great pleasures of going to a ground and standing in the appropriate supporter's stand, was that of the chanting. Back then we had lovely little ditties like:-
"You're going home in a fucking ambulance!"
"We hope your balls drop off!"
"No one likes us, we don't care!"
"Who ate all the pies?"
"Who's the wanker/bastard in the black?"
"You're shit and you know you are!"
"Migger, Migger, Lick my boots!"
"Shit on the Villa!"
"What the fucking 'ell was that!?"
and
"You're gonna get your fucking heads kicked in!"
There were probably loads more, but I wont bore you any further.
Fact is, these days I doubt if fans sing half of these chants, probably because fans are not allowed due to causing offence.
I can probably understand why racist chants are no longer tolerated, but quite a few chants I've heard on TV these days seem rather lame in comparison.
Perhaps its because fans have to sit rather than stand in large tight gatherings; or that some of the newer stadia just don't have the same cosy atmosphere. Or perhaps modern day fans are just too woke/flakey to want to be seen as aggressive or give hurty feelings to opposition fans probably because there's more women attending than ever before.
Perhaps I'm simply out of touch because I haven't bothered going to the grounds since just before the Premier League was born in 1992 and everything turned to corporate shite!
Nominated by: Technocunt
Seconded by: Dark key cunt
I second this cunting with whomever advertised on CNN.
There's some ad on CNN that says true football fans have no borders. Fuck off. Green Lanes in Norf Laahndon divides the boroughs of Islington and Haringey. South of Green Lanes is Arsenal country. North of it is Tottenham country. Fucking spuds.
(Technically, Woolwich is Arsenal country – NA)
It was Catarrh Airways. The fucking slave-driving cunts.