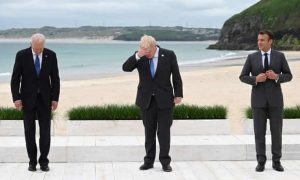 Macron and Johnson at the G7
Wot a pair of cunts. Johnson shambling away in the limelight as the host but blowing every opportunity to shine. Unable to put a coherent sentence together as he fuffs, stammers and pahshaws during his keynote welcome spiel to save the world.
Then it's social distancing photo op time with the POTUS all thumbs up and knuckles up as he poses with Biden. trying to scratch his arse, ruff up his barnet and button up his baggy suit. Meanwhile Biden is the genial picture of tall well groomed, Brooks Brothers suited cool.
That photo of all the leaders together rammed home what a shortarse cunt Johnson is. Even Macron in his built up shoes is taller.
As for Macron,, the little froggy fucker poser, Biden is covered in his slime and other bodily fluids ever since landing. Macron can't stop goat fucking the POTUS.in his role as "America's oldest Allie". Who was that shepherding all the EU into a symbolic group ready to turn their backs on Johnson? Macron again.
All that none-sense stopped as soon as HM appeared and put in a class act and instantly became the centre of attraction. Macarony started capering around her partnered by the POTUS like moths around a lantern
Nominated by: Sir Limply Stoke
And on the subject of Macron, here's this from Vernon Fox
Little Emmanuel napoleon gets a well deserved slap.
While on minceabout today with the less than yummy Mummy (Where's Boris Karloff when you need him?) the teeny tiny Gallic granny grabber and UK hating snakeflake got a good hard slap across the face from a Man in the crowd who shouted "down with Macronia"!
Pwincess looked suitably shocked, outraged and – like all Frenchmen – ran a mile like a sobbing little bitch as his assailant was mobbed by security, but it was just a little reminder of how much the ordinary French people hate this islam licking appeasing rat.
The MSM are, of course, resolute in their condemnation as "Walter le softy" sits in his mansion quivering and sobbing with Mrs Skeletor dabbing rouge and powder on ("Not ze beautiful face – I beg you Monsieur"!) – but where were the same MSM when Jo "witless manatee" Brand condoned throwing battery acid at Nigel Farage?
Where were they when Farage had a milkshake thrown over him? – It might sound funny but what if that was some nutcase throwing corrosive or flammable material?
Vive Le Pen – and the fightback!