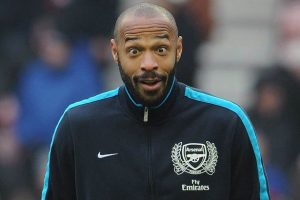 Thierry Henry is a cunt, isn't he.
Good player, bit of a cheat, advertising whore, boring TV pundit, irritating adolescent moustache, and now, inevitably, a crier of "wayy-cism!"
In an attention-seeking display of va-va-boom histrionics, this haughty shit-gibbon removed himself from soshul meeja saying, "Ze sheer volume of racism, bullying and resulting mental torture to individuals is too toxic to ignore."
Psh
What a shame he didn't find his va-va-morality when putting the Republik of Oireland out of the World Cup by his personal 'hand of God' volleyball antics.
His theatrics will have about as much effect to stem anger as his influence on France to win the 2002 World Cup (bundled out first round avec nil goals).
Good riddance. He was a decent player but a horrible individual and an even worse manager. While coaching at Monaco he openly mocked his own players in training, acting totally obnoxiously.
Not so much a 'je ne ce quoi' as a va-va-va-cunt.
Nominated by: Captain Magnanimous 
https://www.skysports.com/football/news/11095/12257259/thierry-henry-to-quit-social-media-due-to-toxic-racism-and-bullying-and-lack-of-regulation