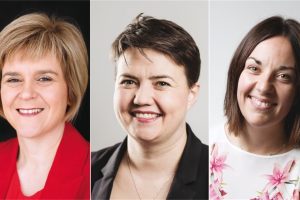 Emergency Cunting! Scottish Politicians.
Just watched Question Time and my piss is now super-heated enough to power 1000 kettles for a week. Scottish Politicians are a collection of half-witted bastards, arseholes, shite bags, sex pests and other assorted cunts.
SNP – Nicola Sturgeon
Their only policy is independence at any cost. Nuff said.
Labour – Anas (Anus) Sarwar
The voice of moderation and rebuilding a post Covid Scotland. Can't shake off the electorate's hatred for Blair and Brown. Then they elected a man called Anus as their leader in Scotland. FFS.
The Greens – Lorna Slater
A potty mouthed rug-muncher who thinks that a gravity battery
using a crane which requires energy… from a motorised crane using petrol… will solve the energy problem.
The Greens don't think at scale. Look, I was told at School that there was 300 years worth of coal left in Britain. If you ignore the climate and CO2 emissions and reopened every coal mine and power station in Britain you wouldn't get enough men to work in the mines and dig out the coal because their wage expectations are too high. They'd be cheaper than cleaning up nuclear power stations for 300-500 years and long term storage of nuclear waste for 10000 years though.
Liberal Democrats – Willie Rennie
Blofeld in Spectre lookalike. Thinks air heat pumps can replace gas powered boilers and cookers in houses. That will cost 10 times more you cunt, and I only have a 60 Amp main fuse which Scottish Power might not upgrade depending on the condition of the meter tails.
Conservative – Douglas Ross
The only Scottish Politician promising a tax cut for the rich. You don't
want to win any votes, do you?
Nominated by: Anton Pillar