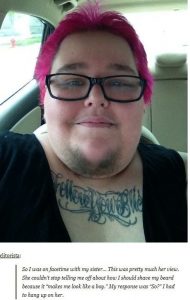 A belated International Wimminz Day nom for the 'Legbeard', AKA the female neckbeard.
Qualifying criteria include hirsute pits and crotch, dyed hair, possibly in dreadlocks, nose studs, a fondness for 'alternative' lifestyles', henna, new folk, consumer feminism, Doctor Who and Harry Potter and board games. Probably calls herself a 'Wiccan', thinks Christianity is evil but quiet on Islam, all men are potential rapists and the patriarchy is keeping her down (rather than her not washing herself and being late). Throws tantrums over anything and everything on Facebook. Doesn't enjoy being corrected despite telling others to 'educate yourself'. Usually contradicts her own argument within two posts.
Her head is usually quite manly (see Miranda Hart) or simply a glob of lard plopped onto a larger glob with no discernable neck. All of her friends are male and sport bum-fluff facial hair and unnervingly prominent breasts, despite not being obese.
She is a 'girl gamer/geek' or some childish shite, thinking it will endear her to men, but secretly finds the flabby man-children who gravitate towards her sexually repulsive, as well as being on a lower income than her and not being able to drive. She works in as an 'administrator' somewhere, usually public sector or NGO and provincial.
She's usually fucking fat: barely over five feet and at least fourteen stone. Sometimes vegan, but the butter pastry and batter mix keeps calling. She's against fat-shaming and proclaims her body shape as 'real', while crying about it because her doctor told her she was at risk of type 2 diabetes.
She's also terrified of any man who drives a van or uses tool and speaks a glottal or alveolar stop. She doesn't know how to speak to non-white people and is petrified of being called racist.
Nominated by: Cuntamus Prime