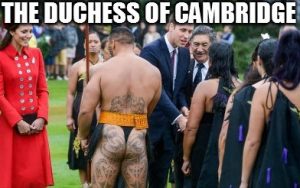 You selfish cunts might like to take a minute to reflect on this:
'The Duchess of Cambridge has said the challenges of parenting and home schooling during lockdown have left her "exhausted".
Poor woman. The trials and tribulations of having everyfucking thing done for you by an army of sycophantic lackeys.
How to keep afloat financially? Which nannies to screen? How many home tutors are needed. Would hubby suit an acrylic hairpiece?
Yes, however badly you selfish cunts have been affected by lockdown, there is always someone worse off.
https://www.bbc.co.uk/news/uk-55851099
Nominated by: Cunstable Cuntbubble 
(You can't fool us! You'd still take her up the tradesman's given half a chance – DA)