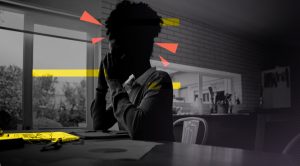 A chip on the shoulder "dat be raciss 'n' sheet" cunting for a lady named 'Grace' who landed an internship aimed at BAMEs only (not at all racist against whites of course).
You'll need to read the article the get the full story, and while I hate bullying of any kind, I'm not sure that's what went on here.
A quick lowdown:
1. Hired on a BAME only 2 year internship in 2018 aged 22.
2. Staff complained about her poor quality of work.
3. Staff gossiped/complained about Grace having bad BO and wearing the same clothes the next day.
4. Grace got two members of staff sacked.
5. She complained about not being liked.
6. She complained about the rest of the staff not understanding that she and other BAMEs are from different backgrounds, and that the employer should've accommodated her poor work for this.
7. She (contradicting point 6) whined about not being given more responsibility.
Here is my amateur, probably talking out of my arse verdict on the above.
1. She was hired due to her skin colour, not her talents or potential talents. No business would survive doing this in large numbers. Best man/woman for the job irrespective of them being white, black or purple with green spots or fuck off and go bust.
2. She didn't really defend this. Perhaps, as a token hire, she was just unable to do the job? Guess what sweetcakes? If honkies can't do their jobs, they get fired too. In fact, as we'll see, you managed to stay in your position due to being black. They were too scared to fire you is what happened. Not sure if I'd have ever got the same treatment as a honky.
3. This was cruel, but the point is this…was it true? She didn't say it wasn't so it was probably true. If you come into work stinking the place up, YOU are the one who is being anti social (if aware of it). Once she heard the gossip she should've taken steps to 'stop the stench'. Perhaps a shower, deodorant and a change of clean clothes (like every cunt else) would've helped? If she had a medical condition that made this difficult to manage (incontinence/skin disease etc) then I have sympathy. If so, she should've told her boss and asked a GP for advice on managing the problem. But that does not appear to be the case. I'm sure 'Grace' would've mentioned if she had a medical condition that caused a nasty pong.
4 and 5.
She complained about being unpopular after getting two long term employees fired. Well the mind fucking boggles as to why this would make her unpopular. Add to this, poor quality of work and stinking the place out may also have contributed? Just sayin'.
6. Why the fuck should the employee drop all the rules and standards just to accommodate her? Again, instead of looking at her own failings, she wants everyone else to change just for her. Fuck right off!
7. Well, on one hand she's saying that she's different and different rules should apply to her just for being black (for her inefficiency), but at the same time whining that she failed due to not having more responsibility given to her. Perhaps best man/woman for the job is the answer here? Not really her fault for being hired, but once in the real world if you can't do the job there will be problems ahead.
What a chippy,entitled cunt!
https://metro.co.uk/2021/02/04/how-diversity-schemes-are-failing-young-people-of-colour-13960176/
Nominated by: Cuntybollocks