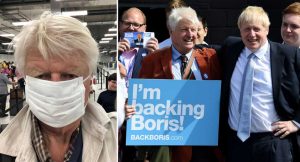 What a cunt!
I understand this prick has applied for a French passport. Why would they give him a passport?
Oh yeah, because he's stinking rich and owns a chateau.
Not only is this wanker a remoaner traitor but a tree hugger as well.
Fuck off to your wonderful EU then Stanley ……..and don't let the door hit your expansive arse on the way out.
Absolute CUNT.
Nominated by: Freddie the Frog 
..and seconded by: Liberal Liquidator
A supporting nom for Freddie the Frog.
No surprise that the jizz-mop headed, EU loving twat is desperate to get balls deep back up 'Le Cunts' arse after the protracted Brexshit debacle by proclaiming he "will always be European" and because his "mother was French". Why wait until you are eighty then dickhead?
He also has Turkish ancestry but understandably not so keen to take citizenship and claim his ancestral homelands of a rabid dog infested village and shack by the female moustache waxer's shop.
(More here  – DA https://www.bbc.co.uk/news/world-europe-55499773 )