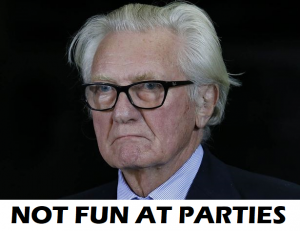 Sadly the old motherfucker didn't take my advice and hang himself from one of his EU-subsidised trees at 2300 hours last night as a protest at leaving the EU, but has instead joined with that gay old wankstain "Lord" Adonis in becoming "rejoiners". Andy and Mike don't deserve titles, they are just fascist scum who want to suck the dick of Barnier:
https://www.express.co.uk/news/politics/1378547/brexit-news-lord-heseltine-eu-uk-trade-deal-uk-rejoin-eu-brexit-agreement-vn
Say what you like about Hitler, at least when the jig was up he had the decency to shoot himself, this pair of fuckers just want to continue to show their contempt for democracy. Heseltine shuffles round pretending to be an eminence grise, and they certainly don't come much greasier. He should spend his time washing his own piss soaked sheets and shit stained Y Fronts. Adonis could write his autobiography — to be called The New Diary Of A Nobody, because that is what he is.
Nominated by: W. C. Boggs