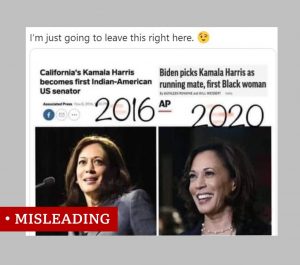 Kamala Harris and "Fweedom".
With Joe Buy-In's inauguration to POTUS imminent, the groundwork for an unelected Kamal Toe Harris to take over has started. Aided by a fawning MSM constructing a 'Kamala the legend, the heroine, the legacy' myth kicked off with a powder puff piece in lifestyle magazine Elle, well-known for its tough questioning and hard nosed political journalism.
In a profile with about as much critical objectivity as a teenage girl profiling Justin Bieber, Harris recalls how as a toddler she was attending a civil rights march in Oakland, California with her mother. "My mother tells the story how I'm fussing, and she's like "Baby, what do you want? What do you need?" And I just looked at her and I said "Fweedom".
So far so toe-curling vomit inducing political bullshit, Blair watching Jackie Milburn in Newcastle United's Gallowgate End or Dame Kweer the son of humble tool maker, politicians embellishing their backgrounds to make them more relatable to voters is nothing new.
But Harris has been accused of plagiarising a 1965 interview Martin Luther King Jr gave to Playboy magazine saying: " I will never forget a moment in Birmingham when a white policeman accosted a little negro girl, seven or eight years old, walking with her mother. "What do you want? " the policeman asked her gruffly, and the the little girl looked him straight in the eye and answered 'Fee-dom'".
I don't think Harris has caught Sleepy Joes Alzheimer's, so another vapid, mediocre, preening political twat is now inventing childhood anecdotes and conjuring up Jackanory stories of racial childhood idealism to sell herself to the American public while shitting on the memory of true civil rights pioneer. This is probably just the start, maybe in future interviews she will 'remember' how she stood in front of the tanks in Tiananmen Square or helped bring down the Berlin Wall.
Nominated by: Liberal Liquidator 
https://www.elle.com/culture/a34225242/kamala-harris-interview/