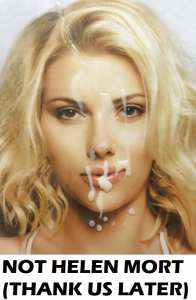 "Deepfake porn images still give me nightmares". Helen Mort? Poet?? Writer???
"Helen, a poet and writer from Sheffield, was alerted to the deepfake images by an acquaintance."
https://www.bbc.co.uk/news/technology-55546372
Yeah right, an "acquaintance"! How fucking convenient! Still, got you some media attention (even if it is only from the woke, poor wimminz story hungry BBC), which is a bonus because like pretty much everyone else, I've never heard of you until now!
Seems Helen wants this to be passed into law as a criminal act and in her particular instance she gets my fucking vote! Having seen her picture I can assure you that I'm going to have nightmares now too and there is absolutely zero chance of me watching deepfake porn of you, or worse, real porn of you come to that…..sh h h h h huder!
Fuck off!
Admin; feel free to use the pic in the link but please issue a apology to unsuspecting cunters!
(Nah – I went with a classic Scarlett Johansson pic because we're classy here at Admin Mansions – NA)
Nominated by: Coolforcunts