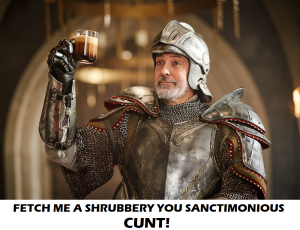 The coffee-advert turd and Black Lives Matter advocate is worth half a billion dollars yet still parades the leftie views. He and his philanthropist wife Amal, have given tons of money to a variety of leftwing causes over the years. Most recently the permanentl-grinning Hollywood power couple donated a whopping $7 million to the Biden campaign and another $500 thousand to anti-American "racial justice" initiatives making money off Black Lives Matter fever.
Now the holy one has talked about bullying.
"I remember my father saying, 'Don't come back and look me in the eye unless you stand up to bullies and racists" said Clooney. "I'm glad to have been raised that way," the wanker claimed, and that from a very young age "to pick fights with people that are more powerful than you. And stick up for people who are less powerful than you, or had less of a position." The oily cunt doesnt seem to realise that he's on the side of the bullies.
Clooney also defended fellow wingnut Tom Cruise this week who recently berated his film crew whilst wearing one of those useless face-masks with the hole in that let's out your germs. Shut up Cruise, you only care that your latest shitfest will make you loads more money. Surely the aliens from planet Xenu are protecting you.
Clooney is one of those Hollywood nuts who has no idea of reality and how he sounds. He must have a new film out. Perhaps he plays a smug, moralising, permanently-coiffured, horribly-oily, plastic-faced cunt spouting the usual virtue-signalling, hypocritical vomit.
Nominated by: Captain Magnanimous