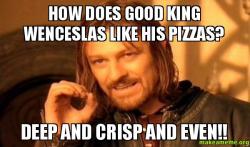 Good King Wenceslas is simply a cunt.
He last looked out on the "Feast Of Steven" but under the new government back of fag packet rules this would clearly be banned under both Tier 2 and 3 so he should be arrested with haste for that alone.
Then he had the sheer cheek to call a local degenerate/thief a "poor man" and a so called "peasant" which clearly breaks all the new regulations for the protection of the permanently baffled in society, the "poor man" was probably a member of our colourful LGBTTFFFQQA community too which makes it a capital offence.
Last but no least he mentions Saints which clearly do not belong in any religion in the UK and finally he does not get on his royal knees to the brave BLM activists who have just arrived to steal his car and VCR.
I therefore conclude he should be thrown into jail…or a KFC/McDonalds whichever is closest.
(On behalf of your admin crew, have a safe and fun New Year's celebration this evening, cunters. See you all in 2021 – NA)
Nominated by: Spanky Mc Spank