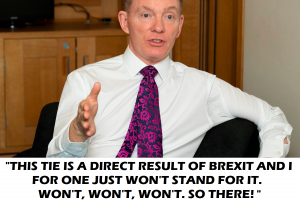 An oooooh get the madam cunting please for Captain Underpants, who had a hissy fit in Parliament today. over Brexit (what else?) The former vicar (God help his flock) got admonished by Sit Linday Hoyle the speaker (he might be a Labour MP but Sir L is far more impartial than Bercow ever was).
https://www.standard.co.uk/news/politics/lindsay-hoyle-admonishes-chris-bryant-commons-pmqs-b231074.html
Isn't it strange how much Brexit still gets on the pansies tits. That or he had had a lovers tiff with his husband this morning.
Nominated by: W. C. Boggs
… and seconded by : Quick Draw McGraw 
Chris Bryant MP. I don't think Captain Y Fronts has been nominated for a while. He's currently making headlines on the Guido Fawkes for allegedly mouthing the words 'fuck off' at Lindsay Hoyle, after the speaker gestured for him to sit down, because he was perched on ledge beneath the press gallery. Naturally, Captain Y Fronts denies it, but several MP's, both Tory and Labour have said that he did. And considering what nasty, deranged little twat he is, I'm going to believe that he did. And of course, being a graceless cunt, Bryant is refusing to apologise.
It was only a few weeks back that Captain Y Fronts completely lost his shit while being interviewed by Dan Wooton on TalkRadio about the pandemic. Dan made a comment about bat flu and wearing masks and the over emotional Bryant became hysterical, accusing Wooton of wanting people to die, before ending the interview, Owen Jones style. The guy has always been a grade cunt, but this year it's been amplified by a factor of 1000.