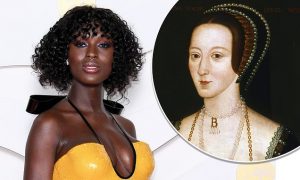 To add to QDM's recent words on this particular subject, I'd like to say Channel 5 are cunts.
Their new series on Anne Boleyn really does take the piss and piss on British heritage and history. In this version Henry VIII's ill fated second wife is black. And no, she is not of a Markle type hue, she is as black as the Ace of Spades and Darth Vader's codpiece.
We will get all this crap about 'diversity' and 'reimagining', but this is not some woke 're-telling' of a fictional story with fictional characters (although they are bad enough anyway).
Anne Boleyn was a real person. She was also Queen of England and the mother of Queen Elizabeth I. Surely someone of such historical significance and standing (however brief it was) deserves more respect and better treatment?
This isn't another David Copperfield or Hermione Grainger piece of colour change bollocks. This is an actual former Queen of the realm who suffered a fit up worthy of the News of the World and an execution to follow, and what Channel 5 are doing is fucking outrageous and disgraceful.
Also,we all know what would happen if it were the other way about, don't we? If Benedict Cuntberbatch played Nelson Mandela, or Michael Sheen as Malcolm X? We wouldn't see the last of it and the 'cultural appropriation' sirens would be heard for miles.
Even if a white actor portrayed a low life like Saint Chicken Floyd George, the indignation and race card puling would be immense and go on forever. But it's OK if 'they' do it, right? Wrong! The hypocrisy and double standards stink the place out as it is, but Anne was an English Queen and mother of another great and iconic English Queen and she deserves better. But she won't get it from such two faced demented woke cunts. To hell with them.
God save the Queen.
Nominated by: Norman 
Supported by Komodo 
Illustrative of the above (already posted under BLM Shit, but so good I'll post it twice)
https://www.arrse.co.uk/community/attachments/bbc-actors-depicting-historical-figures-jpg.529304/
…and another, this time from mystic maven 
I think that Channel Five deserves a nomination, they've gone well down the path of wokedom. Not only did they have a black woman portraying Anne Boelyn, but apparently, according to my dear old mum, they featured a black woman playing a farmer's wife in All Creatures Great and Small. The script writers put in some bullshit along the lines of 'When I first arrived here, people were surprised to see someone like me'… yeah I'm surprised too, as there were no black characters in any of the books.