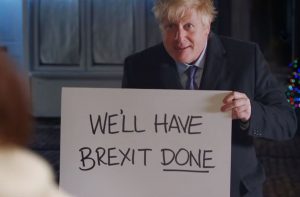 Yes, once again, this fucking useless ball bag is in need of yet another cunting.
I saw him on the telly tonight, holding forth about vaccines, Christmas arrangements and revised lockdown measures. He is under the illusion that he has gravitas and statesman like qualities, he has neither.
Rather than give an eloquent speech in measured, emphatic tones, with some conviction, he witters on about ' the sound of the cavalry coming ' and ' a jolly Christmas, but a time to be jolly careful '.
The man cannot seem to help himself, he trivialises everything.
I have never rated him and hold the opinion that whatever he does is in his own self interest, with no regard for the country or anyone else. I had hoped that I was wrong, but no, he really is a blustering clown, who has a degree in ' the classics ', because he was useless at everything else.
Fuck off Boris, you dumb blonde Turkish cunt, enough is enough, you are a massive cunt, so off you go.
If only Farage were PM.
Brexit sellout reveal, coming to a tv screen near you, soon.
Fat traitorous bastard.
Get To Fuck.
Nominated by:Jack The Cunter