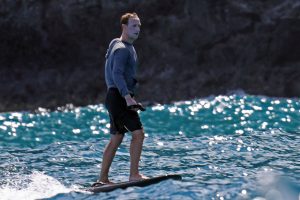 There are many reasons to nominate this piece of shit, but this one comes from something I've just read in the paper.
He was pictured on a day out at the beach with a 'female friend'. Apparently, he was surfing. The thing is, he did in true 'look at me, I'm a piece of shit soy boy tech billionaire, who has no respect for your privacy and who got rich selling YOUR personal information' by 'surfing' on a hydrofoil board.
I'd never heard of these things, but apparently, it's a normal surf board, but with a big hydrofoil stuck underneath it.
Why? Other than to advertise to people what a complete and utter cunt you are (which Zuckerberg really doesn't need to do) there is no point to them. Real surfers wouldn't touch a hydrofoil board with a blue whale's dick because, although some of them are somewhat cuntish, they're not THAT cuntish.
But that wasn't enough cuntery for Zuckerberg, oh no. Because he was hydrofoil surfing, while wearing a fucking HELMET. Again, why? It's water, you twat, not fucking steel. NOTHING screams "I'm soppy, android, pussy ass, completely risk averse bell end of a cunt" than wearing a fucking a helmet while on a board on the water.
What the actual fuck? If you're THAT worried about getting hurt, don't do it, cunt bubble.
Nominated by: Quick Draw McGraw