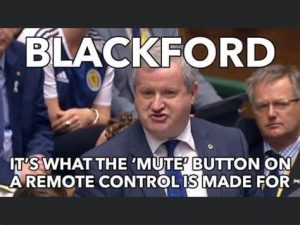 American sage Mark Twain once wrote that 'it's better to keep your mouth shut and appear stupid than it is to open it and remove all doubt'.
Sadly for him, but gratifyingly for us, this is a lesson that MP Ian 'Bloater' Blackford seems to be utterly incapable of learning.
Following on from 'Sleepy' Joe's election win across the pond, the barrel of lard SNP leader at Westminster has taken to Twitter (as is the thing these days) to attack President Trump. He wrote;
'You lost. Get over it, show some grace, congratulate the winner. That's the right thing to do. Democracy is a wonderful thing, embrace it'.
Clearly the Westminster Windsock hasn't thought it through, or he would see the implications of his own words for himself and his party.
Or maybe he only believes in 'democracy' when it delivers the result that he thinks it should.
Or maybe he just doesn't do irony.
Or maybe he really is just a stupid cunt.
Anyway Bloater, you lost, get over it.
Nominated by: Ron Knee