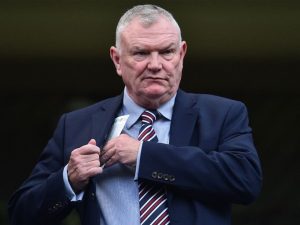 Greg Clarke has been forced to resign as Football Association chairman because of the words he used to describe coloured footballers to the DCMS select committee.
His words were variously described as 'outdated', 'abhorrent' and 'language that does not encourage inclusion'.
So which words did he use? N*****s? B**** B******s?
No, he used the words 'coloured footballers'.
No doubt the objections came from the same people who demand we now use the word 'issues' instead of 'problems'.
So please tell me which words I have to use in order to save my job.
Oh I forgot, I'm retired. Thank fuck for that.
Nominated by: Allan 
(More here – DA https://www.ibtimes.co.uk/greg-clarke-resigns-fa-chairman-over-racist-remarks-about-black-players-1685800 )
.. and supported by Komodo 
Political football.
I really, really don't do football, so I'm probably the least likely cunter to react to the frequent outbursts of idiocy emanating from the game. This one hit me between the eyes, though. Greg Clarke, who is a chairman or something, has been shown the red card or expelled or something for stating his opinion.
https://www.aljazeera.com/news/2020/11/10/english-fa-chairman-resigns-after-unacceptable-racism-storm
(At least Al-J isn't the BBC or the Grauniad. Best I can do, sorry.)
'Unacceptable racism' is now defined as
1. Calling black people coloured.
2. Saying South Asians are more interested in IT than football.
Also now lumped in under 'unacceptable racism' are
3. Claiming that young girls are put off football because they don't want to get hurt
4. Claiming homosexuality is a lifestyle choice.
I think that means Clarke has officially ticked all the 'I'm Offended!' boxes, millions of wokes are even now in floods of outraged tears, and that yet another poor cunt who said what he thought is destined for the celebrity graveyard.
If Clarke had been Professor of Bame and Woke Studies at Formertech University, then, fine, stating his views would rather have undermined the substance of what he was teaching. He certainly wouldn't have got the tenure in the first place. But a sporting executive?
"I may not agree with what he's saying, but I will defend to the death his right to say it.". And I don't even like football.