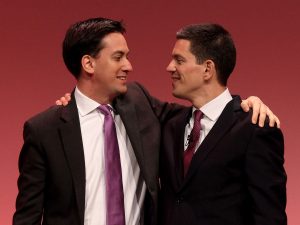 (Two cunts for the price of one – DA)
I just went to look at the news just now and a fetid turd from a few years back seems to have floated up again.
Yes, none other than David 'irrelevant' Milliband. This cock stain has been wheeled out by LBC a few times crowing about how the US won't give the U.K. a trade deal regardless of who wins the election, and how Britain is a none entity state outside of the EU.
Well cunt, for once you actually know what you are talking about, being a none entity, irrelevant cunt yourself, however in true Milliband style you are still wrong. Just fuck off and die will you?
Nominated by: The Captain
…and here's one for his brother, Ed, courtesy of W. C. Boggs
Ladies and gentlemen I give you your own – your very own – and you can keep him Deputy Minister for Mirth Ed Miliband. This stupid cunt who sounds too irritating to be funny appeared oin Wireless 4's Today programme this morning, to implore the government, in that camp pleading voice of his, to spend £30b – let me say that again – 30 BILLION POUNDS over the next 18 months on "green jobs". This madcap proposal is backed by the queen of dirty undercrackers, Analease Dodds. of course. That dirty tart ought to campaign to open a few soap factories and slipper baths.
Miliband minor wants some of this money to go on "planting trees".
This country faces an unimagined economic disaster in the next few years, which is, I should say, of greater moment than the enviromental crisis, and this stupid pair of shitstains wants to squander even more money.
But perhaps it is just me out of step, that comic fanzine of Labour, Labourlist seems to think it is a good idea as well:
https://labourlist.org/2020/11/labour-challenges-government-to-create-400000-new-jobs-in-green-recovery/
All I can say is that there must be a village in Doncaster who has lost their idiot, previouslyu last seen planting a tombstone in Hastings a few years ago. He is clearly building a new one.