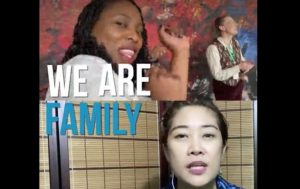 Bugger me, bombarded on all sides by "we will get through this together" bolloxs.
War time spirit mixed with '60s social worker cobblers. Shite mobile videos posted on FlickFuck immediately reposted on BBC News. Geriatric old cunts shaking their booty and spraying old lady shite all over their zimmer frames. Delightfully out of synch old cunts doing a weird Monster Mash to the eponymous Sister Sledge gay hit now fronted by the spectacularly old and ugly Kim Sledge.
You know what (to borrow the brain slime cliché favoured by pop/media persons), you know what, the WHO (World Health Organisation) are the brains and money behind this embarrassment. Now that Big Don has cut off US funding from this corrupt organisation who has rushed in as principal funder of the WHO? HMG. Oh yes.
I eliminate meself from all this Covid crap because like a true cunt I hate people, never go near the fuckers except when I feel a sneeze coming on.
In short you stay away from me and I'll stay away from you. Plague eliminated. You know it makes sense.
Nominated by: Sir Limply Stoke