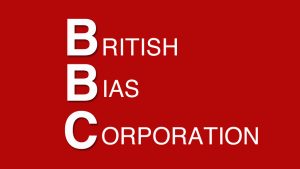 Yep the BBC again!
05/09/20 A friend of mine went to a #Saveourchildren protest march with 2000-3000 people in London, goes directly to the BBC headquarters (and Disney), protests and chants outside about their sickening program of leftist tranny and worse gender identity politics aimed at children, pedos and all the other scandalous BBC behavior and doesn't get one mention on BBC news or as far as I've seen so far on no other MSM, what a fucking surprise! Imagine the MSM coverage if that march was BLM or another Marxist far left terrorist group like Antifa, ER, etc. you could channel hop for a week and still not be able to get away from it!
Do not fund the BBC with your hard earned! Do not bow to the extortion which is called a tv licence, seriously just don't pay it. If you knew the pleasure I get when I see Gary Lineker's smug grin knowing I am not chipping in for his wages you would all stop paying this extortion too I can assure you! You can think of a great deal of other BBC cronies you hate yet are chipping in to fund their lifestyle and opinions which most likely stands for everything you hate! Give it time and if they get their way they will have the P along with the rest of the letters make no mistake!
Links courtesy of Dick Dribbler in reply to me in the "Proud Trust" Nom.
https://www.sopaimages.com/galleries/20475/save-our-children-protest-in-london-uk
https://m.youtube.com/watch?v=g4KiOCJsaDM
Defund the BBC, the perverts they have protected and still protect, their hard left agenda and all their Brexit bias!
Fuck Off!
Nominated by: Coolforcunts