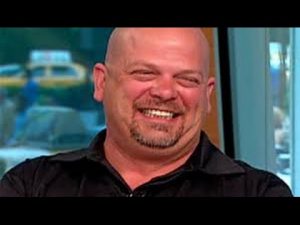 I'm cunting nervous laughs.
I'm a fan of the American TV show 'Pawn Stars'. It's about a pawn shop in Las Vegas, some interesting things on it, it's light hearted, and I like the stars of the show Rick Harrison, his son Corey and morbidly obese assistant Chumley.
The only thing I don't like is Rick laughs after every single thing he says.
"It'd be around $500,hehehe"
"I'm going to have to call my coin guy, hehehe"
Now I like him he's a nice bloke and I know he can't help it, it's a nervous laugh, he means no harm. But it boils my blood for some reason, if I worked there id either
A) develop a nervous tic of my own suppressing my growing rage
B) snap.
Scream "WHAT THE FUCK ARE YOU LAUGHING AT YOU CUNT?!!!
Then feel sad at hurting his feelings.
Can this be cured this nervous laugh thing?
It needs to be, its annoying as fuck.
Heeheehee..
Nominated by: Miserable Northern Cunt
(Exhibit A – DA   https://www.youtube.com/watch?v=aoFYFXrNpMU&ab_channel=PawnStars)