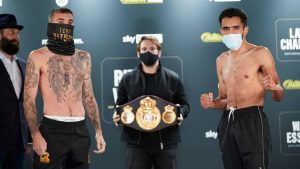 They used to say if a boxer went to fight in Italy he would have to knock his opponent out to get a draw. In recent years Germany became the country to avoid because of home town decisions.
However on saturday the 17th of October Lewis Ritson fought Miguel Vazquez at the East of England Arena in Peterborough, a fight which was televised. I wanted Ritson to win because he's a Brit but it soon became obvious that he had a hard night ahead of him. He plodded around the ring after former world champ Vazquez and got his head boxed off. Former boxer Matthew Macklin working as part of the commentary team scored it ten rounds to two in Vazquez's favour.
The result was a foregone conclusion but the judges scored it 113-116, 117-111, 115-113 for Ritson. The judge who scored it 117-111 was Terry O'Connor who has form when it comes to questionable verdicts. He seems to decide who's won before the first bell and was pictured looking at his phone while the fight was still in progress.
After the fight Ritson said he thought he'd won because his punches were harder, which proves he has an alarming lack of knowledge about the sport as any punch that lands is a scoring punch, and most of his punches missed the target completely.
I've never liked home town decisions in foreign countries, for them to happen in this country is unacceptable. This result was scandalous, disgraceful and embarrassing. O'Connor is to appear before the British Boxing Board of Control to explain himself but all three of the judges should be looked at, as even the score of 116-113 in Vazquez's favour was hopelessly inaccurate. Either these judges are corrupt of they are incompetent, either way their jobs should be forfeited.
Nominated by: Allan