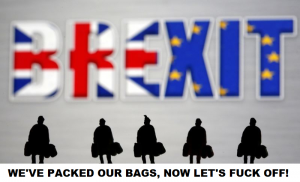 The bullshit and hypocrisy around the proposal to 'break international law'. regarding the EU divorce treaty.
'The protocol states companies moving goods from Northern Ireland to Great Britain (England, Scotland and Wales) would have to fill out export declaration forms.
Another part of the protocol says the UK has to follow EU rules on state aid – the financial support governments give to businesses – 'for goods related to Northern Ireland.'
Firstly, we should never have agreed to this in the first place. It is clearly designed to undermine the integrity of the UK, and align us with Brussels.
Secondly it has given the Remoaners another nettle to grasp.
The arguments made are that the UK will never be trusted again. A totally meaningless concept.
But the silliest argument is that we wont be able to condemn Russia, China etc for their illegal actions. Think about that one. Has any diplomatic objection or posturing ever made any difference to these cunts?
Another round of nonsense which the Remoaners desperately hope will return us to the crippled government they so desire.
Fire up the recently cunted Steve Bray. Your country needs you.
Nominated by: Cuntstable Cuntbubble