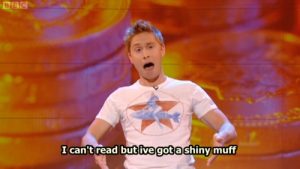 Safe, unfunny, woke, middle class, boring.
Some stand up called Anya on telly whining shes been assaulted by blokes in comedy clubs.
Well if your audience smacks you one its pretty clear-cut they don't like your act!
That wurzel sounding tumour Russell Howard flouncing off stage because a woman was filming on a phone?
"You've spoilt it now!"  Russell sobbed as he dashed away like a mardarse.
I doubt Bernard Manning would of been so unprofessional or handled it that way?
Too be fair Russell's tantrum was funny!
Only time hes made me laugh anyway the boring little cunt.
Oh and middle class women?
Your not funny.
Unless you fall off stage.
Nominated by: Miserable Northern Cunt