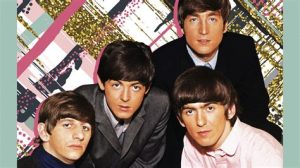 The Beatles were and are cunts.
This isn't a cunting based on their musical output and even Yoko Fucking Ono has nothing to do with this one. I can't even blame her for this one.
They are cunts because they stabbed a mate of theirs in the back in the worst way possible and they didn't even have the balls to tell him to his face. Not only that, they continued putting the boot into Pete Best as they ascended to fame and fortune. Attempting to justify their utterly cuntish behaviour by spreading crap like he had no sense of humour, he didn't talk, he couldn't play drums, which I think is all bollocks and excuses.
And who did they replace the lad with? Ringo Starr! I mean, if they had got Keith Moon or Mitch Mitchell, it would at least have been sort of understandable. But Ringo fucking Starr?! Just how bad could Pete have been? Sacking and shafting the bloke in the most dirty and cowardly way possible is bad enough, but losing his job and arguably the biggest drumming gig in history to Ringo Starr?! Talk about adding insult to injury.
They could and can yap on all they like about how they didn't rate Best as a drummer (so, they got two solid years of bookings in German clubs and endless Cavern gigs with a shit drummer?), but the bottom line is they sacked the bloke because they were cunts. And the way they did it (or had it done) shows that they were cunts.
Also added. Paul McCartney saying Best wasn't great as a musician, then having Linda McCartney is his band for years?! Do fuck off.
And let's not even start on the Plastic Cunting Fucking Ono Band.
Nominated by Norman
Even their music isn't actually that good in my opinion – admin