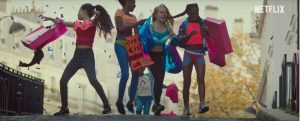 Netflix definitely deserves a nomination. I have to admit, I quite like Netflix. It has a lot of great shows, the first seasons of Altered Carbon and Umbrella Academy were awesome. The second seasons, not so much because they bent the knee to the cult of woke. As did their version of Lost in Space, and their female version of Dr Smith was just fucking annoying. They also have a lot of shite too, and it is one, upcoming pile of shite that has earned them this nomination. It's a movie called "Cuties".
Directed by a black woman (that in itself is not a problem for me) called Maïmouna Doucouré, the movie is about an 11 year old Senegalese girl living with her family in France, who dreams about joining a twerking dance troupe of other 11 year old girls (there's a trailer on YouTube if anyone wants to take a look. Haven't seen it myself).The original description contained bullshit about her "finding her femininity" and there was another bit that had the term "sexual awakening" (for an 11 year old girl). When I last checked, it was rated for adults, which makes me wonder who the movie is aimed at? What kind of adult would possibly be interested in a movie which features 11 year old girls, children, dressed in very revealing clothing, while twerking? I think we all know the answer to that one.
Naturally, the far left can't see anything wrong with this, but then again, a lot of their see nothing wrong with paedophilia. Apparently, this movie actually won an award at the Sundance film festival, prior to its general release back in April. Happily, it's become apparent that I'm not alone in my disgust at this 'movie'. Netflix have received huge backlash over this bullshit. Though, it's not enough for them to pull it from their streaming service, and their response to it has been pathetic. I can't see it doing very well, but that's not the point. Netflix should NOT be showing shite like this. I'm no prude, but a movie about very young girls, that carries a mature rating, could only be aimed at the kind of people who see nothing wrong with paedophilia.
So, Netflix. You are CUNTS. Paedo supporting CUNTS!
Incidentally, I've now cancelled my subscription to Netflix.
Nominated by: Quick Draw McGraw 
(For the benefit of newbie cunters here – given the way WordPress moderates certain words, including variations of "paedophilia", try to be inventive in order to avoid your comment ending up in Modland. And of course given the subject matter don't include links to anything more extreme. – Day Admin)