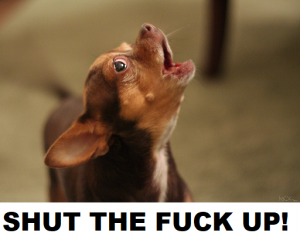 Dog owners who don't tell their dogs to shut the fuck up.
630am Sunday morning….
Been a warm night so kept the bedroom window open to get a through draft to get a better nights sleep than the previous night.
worked a treat till said time above when the two springer spaniels across the road started to bark. And they barked for a solid two hours at every man woman child car tractor rat cat arma-fucking-dillo that walked past their house.
730am got up. Cunts.
1100am decided to walk round village as got some sort of event yard sale going on. Half the amount of sellers all had dogs and when you got anywhere near to look at the tat they were selling yap yap yap yap.
Returned home.
Now in garden enjoying a brew with the missus and guess what the neighbours dog has started to yap away with a gay abandon. its now fifteen minutes and no sign of stopping.
Why can't these owners tell their little bundle of joy to shut the fuck up. Not once do I hear them try to quieten the fluff on four legs down.
I swear one day I'm going to get medieval on these dogs and the owners.
Thanks cunts for ruining my not so peaceful day off.
Nominated by: Once a cunt always a cunt