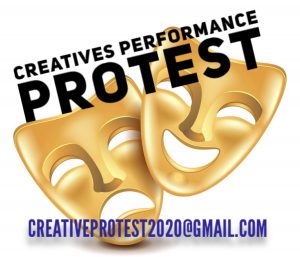 Having yet some connection with the theatre dodge after a lifetime presenting productions in celebration orf the female form (me last production "Yes it's nude, Yes it's rude"), Yours Truly is on occasion emailed or FB'd invitations to support the profession.
Thus in these trying times – theatres closed across the country, refused a performance license by the fucking council for me discreet supper club, boraccic thesps trying to touch me for a sub – nobody can afford a hand cart to go to hell in. Last resort prostitute me butler's old arse orn the street but no cunt will come near – social fucking distancing!
So lots orf time to give back to the profession (not that it's ever given me anything the cunts) so joined the group Creative Performance Protest as invited in order to give the resting cunts the benefit orf me experiences.
Noted in passing most orf the posts were orf the woke right on workers solidarity schtick. No fool like an old fool so assumed the unemployed luvvies (most orf the cunts have never been employed) would appreciate a light hearted piss take orf the chinko cunts who have put us all orn queer street.
Posted the below and within seconds was echo chambered as a waycist and banned by admin. May I humbly request that cunters who have FaceBook please join Creative Performance Protest if so minded and give it the benefit.
PEOPLES REPUBLIC OF CHINA RESTAURANT
SELL YOUR SOUL FOR FREE FOOD EVENT
Lock Down Special Menu for the Indigent Thesp
Bats Bollocks Wuhan Style or Fried Monkey Chuff Peking Style
(Served with Non Sustainable Bottom Trawled Sea Slug Sauce)
Pangolin Penis Special Soup or Fresh Uyghur Body Parts Pottage
(note all Uyghur ingredients sourced from our own farms)
Galapagos Islands Chinese Big Fleet Weird and Wonderful Rare Species Fish Platter
Rat Fuck Ice Cream
500ml Tiger Bones Lager
Food Safety Declaration: Cuisine may contain trace quantities of nuts and strange meats and fluids.
Ts & Cs. To win free one way flight and Covid test in Hong Kong Scan Barcode with your Haiwei 5G device and enter personal data as prompted. Note our partner network will harvest data automatically. All such intellectual property thus harvested may be sold or transferred to approved entities World Wide. For your security in any event it remains the sole property of PROC (THE PROPRIETOR) and Haiwei (THE MANAGEMENT), the Chinese Peoples Army (CUSTOMER RELATIONS) and Xi Jinping (THE DICTATOR). We do not recognize Equity Contracts or English Law.
Nominated by: Sir Limply Stoke