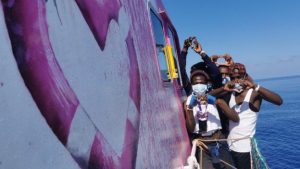 Emergency cunting due for Banksy. Not the first time he's been cunted it seems!
Being a total failure as a youngster in school at the subject of Art myself, I did have some admiration for Banksy as I thought that a few of his creations were brilliant, albeit his respect for other peoples property was disregarded.
Was appalled when I spotted this tonight:-
https://www.bbc.co.uk/news/uk-england-bristol-53949831
Hope his people are returning these poor folk back to the Frogs rather than here, but I guess that wont be the case.
Banksy is a cunt!
Nominated by: knobrot
… and seconded by Jack The Cunter 
Banksy is a cunt.
The lefty's favourite vandal has bought a former French vessel, in order to pick up illegal immigrants in the Med. No doubt it will soon change its area of operations to the English Channel.
All this has been funded by his artistic ( ! ) vandalism. Something that you or I would be prosecuted for.
Here's the story.
https://www.bbc.co.uk/news/uk-england-bristol-53949831
(A quick word of thanks to other cunters nominating this arsehole, but who just missed the Posting deadline – Day Admin)