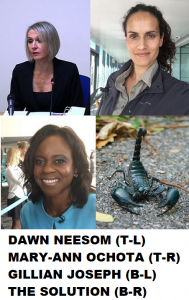 An early bird Sunday morning cunting for ISAC favourite, the Isleworth idiot factory Sly News.
This morning reviewing the papers we had Dawn Neesom, former editor of The Daily (red) Star and Guardian contributor and anthropologist, Mary-Ann 'the forehead' Ochota. So as you would expect absolutely no fucking attempt at impartiality. Hosted by Gillian Joseph who, it appears, would rather stand in a barrel of scorpions than say anything approaching even handed on government or Brexit related matters.
Neesom is first out of the gate reviewing the suspension of the Covid-19 death toll bulletin amid claims the figures were exaggerated. With eyes rolling and her continually calling Matt Hancock "Nick". Nick Handcocks? This rabid left wing harpy was left unchallenged. Joseph and The Forehead reveling in the continued misuse of Hancock's name, I was instantly transported back to the primary school playground. Utterly childish as it was pathetic, after Neesom had finished spouting her shite and demanding a "apology" from Nick because the death figures are apparently LOWER?
It was left to smug Cheshire Cat gurning Joseph to inform Gobshite Neesom she had got Handcocks name wrong. Her reply? A shrug of the shoulders and mouthed "whatever" into the microphone. Joseph fell back in her seat laughing whilst The Forehead smiled contentedly……
And that's SLY NEWS in a nutshell!!! Utter cunts.
Nominated by: Quislings
Edited to death to make it make sense – admin
(I nearly didn't bother so hope you appreciate it)