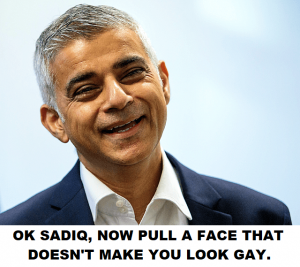 A good-gracious-gawd-blimey-duckie, cunting please for the egomanical tall story telling mini Mayor of London, who is apparently some sort of "iconic" gay magnet. He has been vouchsafing, to anyone who might be reading that he enjoyed his trips to a "notorious cruising spot" where he was chatted up by the left-leaning duckies who had important business engagements there with fellow fruity gentlemen:
https://theworldnews.net/gb-news/chancellor-sadiq-khan-enjoyed-being-eyed-up-by-hopeful-lads-on-clapham-common
If Sadprick really was in demand, I can only assume it was as a sugar daddy – I can't imagine how any gay lad would want an undersized curry-stinking little runt like him, unless it was for the contents of his walet, rather than the contents of his ringpiece.
This begs the question, why did Khan keep making visits to a place he knew was frequented by men whose sexual appetites did not match his own?. Is he a voyeur, perhaps – a bit of late night relief after a busy day pouring over the latest stabbing figures for the kingdom he rules over , steaming up the back windows of cars while knocking one out to forget work worries – or is he just a boasting liar who dreams stories like this up to try to bolster his shrinking image?. Diversity is our strength, duckies, as Saddick would say.
Nominated by: W. C. Boggs