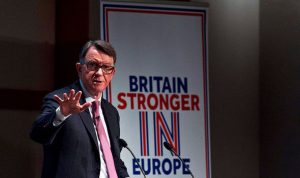 Yes – she's back!, with a flash of her pink petticoats, and a whiff of quim juice from his frilly panties, the oldest old woman from New Labour – Blair's poodle in chief, Gladys Mandelson is back prepared to give his all (for a large fee) for his cuntry and his Remainer mates. Mandy wants to llead the WTO:
https://www.express.co.uk/news/uk/1299678/Brexit-news-peter-Mandelson-wto-leader-Labour-party-no-deal-brexit-trade-on-WTO
This fuckwits egregious cheek and self regard is almost as wide and deep as his reamed ringpiece, after years of punishment on the playing fields of Eton and the more secluded parts of Hampstead Heath.
This old cunt should fuck off nd become an existenionalist – why kill time when you can kill yourself, Mandy?
Nominated by: W. C. Boggs