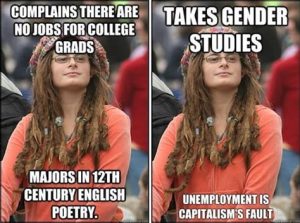 A stupid-mortar-board-and-idiotic-grin cunting for Non-academic degrees.
A degree is meant to be academic; based on research, reading, theory, seminars, lectures, more reading, and writing papers.
It does not make you a better comic book artist, actor, dancer, singer, dress maker, or cook.
I've met people with degrees in biology who are stuck in warehouses, physics and economics graduates who are landscape gardeners or window cleaners.. They have academic degrees in STEM fields and still struggle to get a relevant job.
The poor saps who decide to take 3 years off and whack thirty grand on a Performing arts degree to learn how to act should really be going to stage school. A degree will not teach you skills or techniques.
If you want to learn to draw go to an art/technical college. Writing an essay on postmodernism or how Batman is a toxic white male wont help.
Fashion design is another culprit, but the worst one is a BA in 'culinary arts'.
Cooking.
Who will the hotel manager hire; the 22 year old who started off as a pot washer aged 15, became a commis chef after a professional catering course paid for by a different hotel, then moved up to sous chef, or a 22 year old who spent three years reading about Anthony Bourdain and Umami, knows where the three Michelin star restaurants are but never chopped an onion?
Any cunters with children or relatives approaching college age might want to think about this. Their teachers and lecturers might say 'get a degree get a degree get a degree' but do we need more BA (Hons) shelf-stackers with Derrida and Marcuse on their bookshelves but thirty grand owed and can never pay back?
Nominated by: Cuntamus Prime