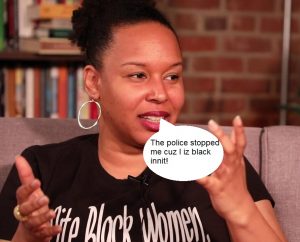 Bianca Williams?
'Who the fuck is that?', I hear you ask. Well she's a 200m sprinter for the Great Britain team. The sort who might make a final and finish 8th or 9th, but will probably be out in the semis. A legend she is not, and at 25, she's not going to get much better.
But I digress, her cunting is for an article or two I've seen on her saying she was stopped in her Mercedes by the cops only because of 'racial profiling'.
Yup, she was stopped cos she is black, innit. At first, I thought she may have a point, but of course, the rozzers are terrified of arresting black people now, so I had my doubts.
Upon reading the BBC'S article, it appeared that this lady was just whipping out the race card after obviously breaking the law. This is from the article:
"Police say the vehicle had been on the wrong side of the road and the driver sped off when asked to stop.
Officers were patrolling in the Maida Vale area because of an increase in youth violence.
A police statement said: "Officers from the Directorate of Professional Standards have reviewed both footage from social media, and the body-worn video of the officers, and are satisfied that there is no concern around the officers' conduct."
So there you have it. Another race card whipping dindunuffin. Imagine my surprise.
The BBC have been pushing the 'racial' profiling' bullshit too, of course.
Just abolish the MET and let London have at it without any police force, sorry 'service' for a month. They'll soon be begging for hard line 'Sweeney' style 'He fell daaahn the stairs guv' policing.
Fuck off.
Nominated by: Cuntybollocks 
And seconded with this:
A honey-child, wha-ma-treated-so-bad, papa I'm butt hurt cunting please for Olympic dark key heroine Bianca who was mortified to be pulled over by the poilice on Saturday, and whose cries of outrage and pain were broadcast on Wireless 4 World At One today (6th July) – screaming like a banshee, she is apparently "considering" suing the Metropolitan police. It seems her "boyfriend" and their child refused to stop when first requested to do so, so when they caught up with them the
mouthy cow was handcuffed and arrested:
https://www.bbc.co.uk/sport/athletics/53305712
If only they had gagged her as well, fewer Wireless 4 listeners would have a headache to accompany their lunch.
The sense of entitlement of these black sportspeople seems to have reached monumental proportions these days, innit. She get's weary and sick of trying but Ole Man River he just keep rolling along. Mammy….
Nominated by: W. C. Boggs
and yet another one
An additional cunting for Bianca Williams (and partner Ricardo dos Santos)
Entitled Bianca is suing the police for racial profiling (probably many more to come after pandering the BLM, we will need additional courts to cover this shit).
Stopped by police in a black Merc, this is after doing in her own words a number of side street left and right turns while being followed by a police van, they were asked to stop but carried on (her excuse was they were close to home).
From the very limited video (not police, her phone) Ricardo got a little shirty with police, not sure why, a simple 'yes officer what is the problem' and Bianca gets all screechy, of course she gets the sympathy card straight away because her sprog is in the car in a baby seat. Now there were a couple of police women trying to calm her down not a couple of hairy arsed blokes.
The reason, according to Bianca, they were stopped is because it was of racial profiling, a black man in black Merc with tinted windows…. you know the sort of motor associated with young black men selling drugs, or in my case, a black guy in a black Merc tried to sell me a watch in London, my reply no thank you.
The police have reviewed the incident and have stated there was no problem with the stop.
Oh I nearly forgot, Bianca and partner are Professional athletes, she is British and he is Portuguese (so he can fuck off straight away, if he doesn't fucking like being stopped by police he can always fuck off back to Portugal).
Nominated by: Sick of it