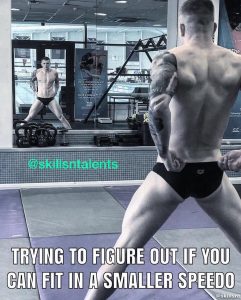 Splish splash – I might be a bit of a drip but a 100 metre cunting please for rotound podgy Olympic swimmer, Adam Peaty who at the age of twentysomething has run through every cliche' in the book of fading sports stars of yesteryear.
He has given a wide ranging interview with the BBC, (he runs the gamut from A to B as Dorothy Parker would have said) he talks of his early success (1st ciche) his battle with the bottle (2nd cliche') his "partying" (3rd cliche') and his subsequent "battles with hs mental health" (4th cliche') now Mr. P has committed the biggest cliche' in the BBC book and got a half caste girl up the duff, and so wants to bring "diversity" – let's say it again – DIVERSITY – into swimming, as he embraces fatherhood (poor little sod – the baby, not Adam):
https://www.bbc.co.uk/sport/swimming/53228364
Little Adam, who like most sportsmen who have to parade around half naked most of the time has decorated himself with tattoos resembling an early example of a roll of William Morris wallpaper (even Tom Daley sports a duckie little one these days), when he is not doing the one thing he can do fairly well, he has to spout right on bollocks. I take it Peaty is after Linekar's job when the crisps do for him.
I wonder what swimmers of colour think of his patronage – well, thank you daddy Peaty, innit.
Nominated by: W. C. Boggs